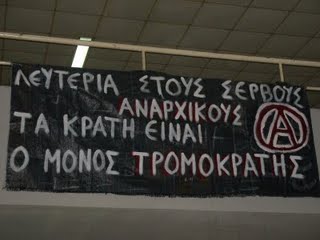 A banner is placed near the entrance of the University (photo) and a text is circulating:
PUT DOWN YOUR HANDS FROM OUR SERB COMRADES!
SOLIDARITY IS OUR WEAPON!
On 25th of August a group of 5 persons attacked with molotov cocktails against the Greek embassy in Belgrade, without causing significant damage. The responsibility was claimed by an organization with the name Black Sun, which, according to its statement, made this attack in solidarity with the hunger striker Th. Iliopoulos.
For this reason, the government of Serbia detained 5 anarchists and persecutes another one, accusing them for "international terrorism". All are members of Anarchosyndicalist Initiative (ASI), an organization that is not related with such attacks, while the arrested also made clear that they have no relation with the attack.
For one more time, the basic characteristics of the security state, that is being built in every country, become visible: increased repression, attack at the parts of the society that resist (in the particular case at anarchosyndicalists) and imposition of the doctrine of order and security. The state tries with every mean to accentuate the repression against politically radical groups: it names a simple attack with minimal material damage as "international terrorism" and afterwards it persecutes anarchosyndicalists without any clues. Purpose? The demoralisation of every political criticism against the dominating mechanisms and the cracking down of the "internal enemy". It is not important if this is named "anarchist", "immigrant" or "koukouloforos" [trans: the Greek state names like this the rioters that hide their face, it means hood-wearer]. The important purpose is the creation of an enemy, the creation of a (marginalized) social group that will lead the rest of the society to the conservativisation and loyalty. In the particular case the state mechanisms acted as they are used to act: two molotov cocktails and an alfadi [trans: alpha in a circle, Ⓐ] are enough to persecute 6 irrelevant with the attack individuals, that are facing imprisonment of decades.The fact that they are in an anarchosyndicalist union is enough in order for them to form the role of the "internal enemy". An "internal enemy" that the state structures will try in any way to not let it from moving aggressively towards the power. In front of the repressive mechanisms of the state, we shall not stand back, but we keep walking with solidarity as our weapon.
FREEDOM TO THE SERB ANARCHIST PRISONERS
THE STATES ARE THE ONLY TERRORISTS
Autonomous group of "University of Macedonia" (Thessaloniki)
http://appamak.blogspot.com/2009/09/6.html
(with some minor spelling changes)