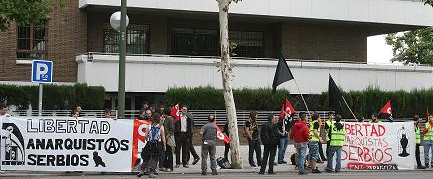 Over 50 people demonstrated in from of the Serbian Embassy on Oct. 2 to demand the release of the Serbian comrades. The Secretary of the Madrid Local Federation gave in a letter on behalf of the entire CNT and the people stayed outside the Embassy for about 2 hours. Despite the excessive police presence there were no major altercations.
People various slogans demanding freedom for the anarchists, demanding an end to all prisons, noting that the struggle for the emancipation of workers is an international struggle, and that this is only the beginning.
And indeed it is. This is the beginning because if they continue to hold our comrades, we will strike where it hurts the Serbian State and we will do it with all the strength we can muster.
The next demo is this Saturday, October 3, at 12,  Anarchists and workers supported this appeal and will show that when an injury to one is an injury to all. The only terrorist in Serbia is the governmental apparatus of repression, so boycott and sabotage state interests.
(Loose translation based on: http://www.cnt.es/node/1413)
http://asi.zsp.net.pl/madrid-solidarity-protest-at-the-serbian-embassy/