http://asi.zsp.net.pl/solidarity-actions-with-arrested-serbian-anarchosyndicalists/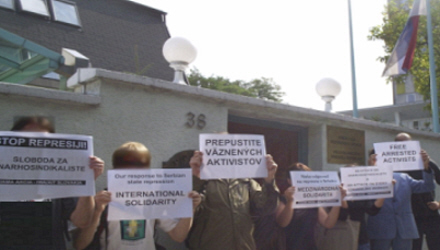 On 14th September, Priama akcia – Bratislava members and supporters (around 10 people) visited the Embassy of Serbian Republic.
Serbian embassy protest
Our previous action at the Serbian embassy on 7th September was met with police harassment (more info here). This time we were a bit more successful and actually got inside the consulate premises (because the door was open at the moment). We delivered our protest letters and explained the reason for the protest to an employee of the consulate. However, we did not manage to meet with the ambassador, who was apparently once again out of his office. The employee claimed he can not guarantee that the consulate or embassy would inform authorities in Serbia as it is not (their) "standard procedure". Interesting.
http://www.priamaakcia.sk/Solidarity-actions-with-arrested-Serbian-anarchosyndicalists-and-Ukrainian-community-activists.html