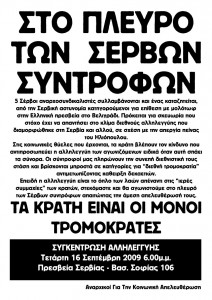 WE STAND WITH THE SERBIAN COMRADES
5 Serb anarchosyndicalists are detained and one is 'wanted' by the serbian police accused for an attack with a molotov cocktail at the Greek embassy in Belgrade. It is a fabrication that attempts to answer to the climate of international solidarity that was formed in Serbia and elsewhere, concerning the hunger strike of Thodoris Iliopoulos. In the social storms that are coming, the states view the danger that represents the solidarity of the struggling people, especially when it breaks the borders. Our comrades pay for their true internationalist attitude and find themselves in front of charges of  'international terrorism' facing imprisonment of decades.
Because solidarity is the weapon of the people against 'holy alliances' of states, we stand and we will fight for the Serb comrades, demanding their immediate release.
THE STATES ARE THE ONLY TERRORISTS
Solidarity Gathering: Wednesday 16th of September 2009, 6.00 pm Embassy of Serbia – Vassilisis Sofias 106, Athens
Anarchists for the social liberation
[translated by an Athens IMC comrade, with some changes]
http://athens.indymedia.org/front.php3?lang=el&article_id=1078805